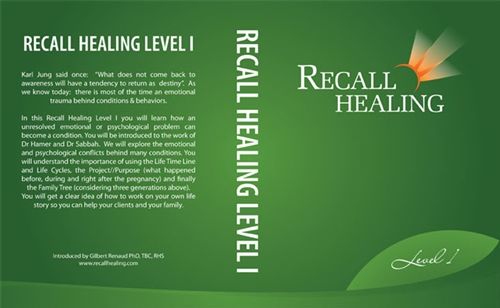 RECALL HEALING LEVEL 1
This is information you should not be without! Recall Healing, led by Dr. Gilbert Renaud and Dr. Pieter DeWet.

Becoming aware of your life story: A Critical key to healing. Karl Jung said once: "What does not come back to awareness will have a tendency to return as destiny." As we know today: there is most of the time an emotional trauma behind conditions & behaviors.

In this Recall Healing Level 1 you will learn how an unresolved emotional or psychological problem can become a condition. You will be introduced to the work of Dr. Hamer and Dr. Sabbah. We will explore the emotional and psychological conflicts behind many conditions. You will understand the importance. of using the Life Time Line and Life Cycles, the Project//Purpose (what happened before, during and right after the pregnancy) and finally the Family Tree (considering three generations above). you will get a clear idea of how to work on your own life story so you can help your clients and your family.

Buy this DVD set today and start on your way to a total life transformation!